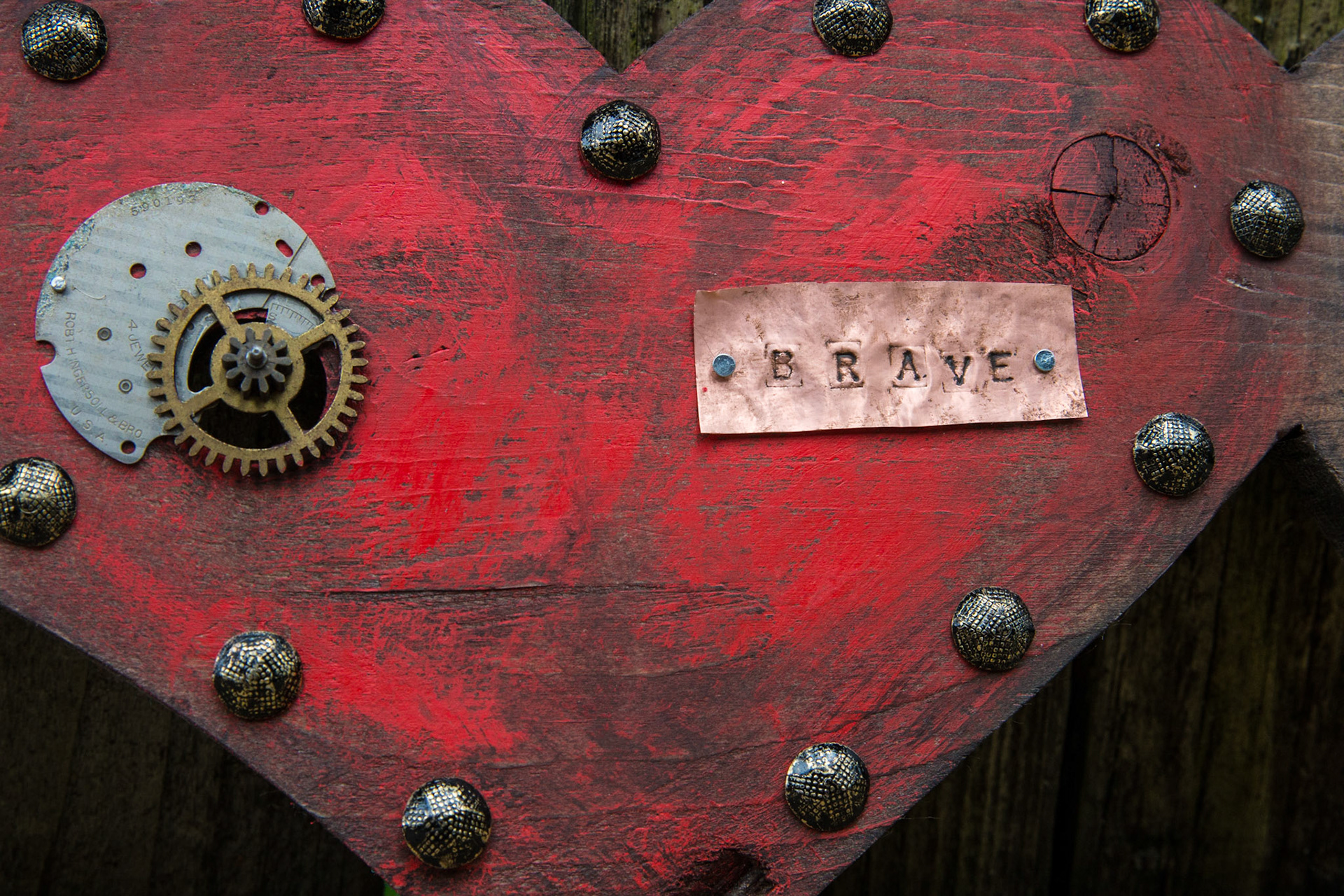 Commission made for a dear friend's brother.  He has a heart condition and required surgery recently.  I purposely cut around a hole in the wood thinking that it would be cool to incorporate the word repair or heal in the hole.  As the piece evolved, I decided to go another direction and include vintage watch parts and gears to symbolize repair.  Brave was stamped in copper and edge was finished with nail heads.  She told me that her brother hung the piece above their front door so they always see it before they leave home.  
Custom Commission for NeuroPsychologist that specializes in working with kids with Autism.  Reviewed space & built a 32x48 piece with slat wood panels, paints, & waxes.  33 is her lucky number.  She specifically requested that I make something that was  "rustic contemporary".
Commission titled "Peace Lives Here".  This was created as a gift for a client's cousin that had back to back surgeries and a very long recovery.  She has a beautiful northwest contemporary home and I created a simple design with a slightly rustic patina and a simple reminder to find peace within.  The way the piece is constructed and built loosely represents surgery: two pieces of salvaged wood, cut, joined, carved, burned, hand painted & finished.  
Commission made for a man who loves black, rusty metal, rat rods, & building things. He is a machinist and builds rat rod cars so I incorporated bolts he commonly uses along with screws, washers, & vintage watch parts.  Black is his favorite color, specifically matte black so I kept it very dark and simple.  
Commission for an Anniversary gift for a friend from her husband.  He made her the frame years ago and it sat empty on the wall for a long time.  They asked me to design something for it.  It is very long and narrow so it required a custom backing and no glass.  I created a collage painting and used many layers of acrylic, papers, gel medium, and inks to create this design.  The three lotuses represent their family of three and there are many references to their history together including a map of AZ where they celebrated their most recent anniversary, a WA map where they met & currently reside, the message Today and Always to represent the future as well as a Buddha quote.